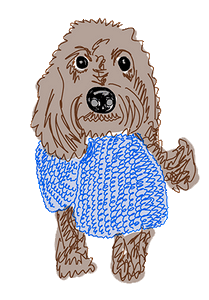 Welcome to a world where dogs wear scarves.
It came to me when I was knitting a human scarf and my dog and friend Skippy would cuddle up and rest his cute head on my fluffy half knitted creation, that Dogs Love Scarfs.  So I knitted Skippy his first ScARF and the world was transformed.  Welcome to our new world where dogs wear scarfs.
Hi, I'm Riley : )
Hello my name is Riley and I am autistic. I love dogs and knitting. I have been knitting for a while and want to teach people that dogs can wear scarves.
Your Dog Will Love you more in your skippyscarfs swag
Luna won't leave the house without her scARF now.  All the neighborhoos pups give her a little longer sniff when she's wearing her purple Skippy ScARF.

Uncle David
Bella likes to sleep in hers. She's so cute in it; the French Poodles in the neighborhood are a little rattled by Bella's forward leaning style.  Eat pie Frenchies!

Bonnie
I love my scarf and all of the other dogs are jealous!

Skippy